Sotera Hires New VP Of Global Sales and Marketing, Derek Sanz
Carlsbad,United States - July 26, 2022 /PressCable/ —
The news of Mr. Sanz's recruitment marks another step forward for the Carlsbad, CA-based makers of ViSi Mobile – an advanced patient-vital sign monitoring solution for healthcare facilities. Derek brings decades of experience in a leadership role, enabling innovative strategies to sustain business growth in the tech sector.
The announcement details the many qualities that Derek Sanz will bring to the Sotera Digital Health family. He has over 20 years of frontline experience within the medical and technology industries and is equally adept at working with large corporations as he is with small startups.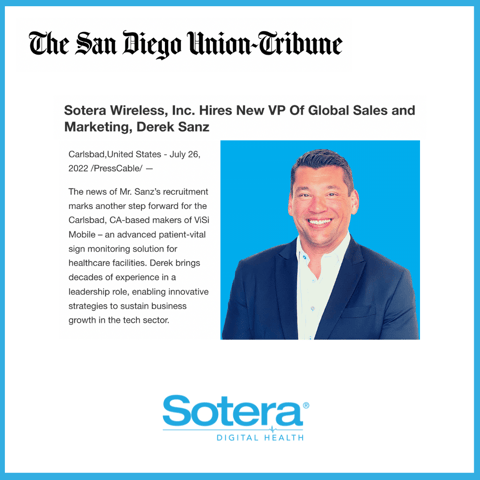 Derek's experience is set to accelerate Sotera's growth rate and market presence, making ViSi Mobile technology a mainstay of healthcare clinics and hospitals throughout the US and beyond. In addition to his hands-on industry experience, Sanz also holds a Bachelor of Science in Human Resource Management from Arizona State University.
"Derek brings an exciting wealth of experience and leadership to the team, and we look forward to continuing to grow our sales and marketing teams with Derek's direction," says CEO Dr. Devin McCombie.
The digital health company utilizes its technology to help ease the burden on clinicians, giving them eyes and ears on critical patients when they are attending to other cases or out of the room. As a leader in the space, Sotera is creating products and services that not only support the clinical workload but also put patients at ease with the understanding that their vital signs are continuously monitored when wearing the ViSi Mobile system. The product is not only good medicine; it also offers great peace of mind.
About Sotera
Sotera has been developing and supplying innovative technology solutions for the medical sector since 2004. Sotera's flagship ViSi Mobile system enables continuous, non-invasive blood pressure monitoring and multi-parameter surveillance of vital signs, improving workflow and patient outcomes for an overstretched industry.
Their goal is to help hospitals improve patient safety across the enterprise with minimum impact on alarm burden, clinical workflow, or support. Further complications can be avoided by helping nurses detect patient deterioration early. The Sotera team includes leaders in patient monitoring technology and clinical leaders that understand the challenges of introducing technology and practice change into hospitals.