Sotera is a Carlsbad, California-based digital health company dedicated to detecting early signs of patient deterioration in any acute care setting.
From the Ancient Greek word: Soteria (Σωτηρία), meaning "the one who saves, literally savior." Sotera is dedicated to saving lives through our data-driven continuous patient monitor systems.
Our goal is to help hospitals improve patient safety across the enterprise with minimum impact on alarm burden, clinical workflow, or support. If we can help nurses detect patient deterioration early enough, further complications can be avoided. The Sotera team includes leaders in patient monitoring technology as well as clinical leaders that understand the challenges of introducing technology and practice change into hospitals.
Sotera Wireless, Inc. is doing business as Sotera, Inc.
Mission
To disrupt the conventional method of vital sign monitoring and introduce continuous surveillance monitoring as the new standard of care
---
Vision
To deliver breakthrough technologies in surveillance monitoring and integrate our proprietary sensors, algorithms and analytics to facilitate cost and workflow efficiencies for greater clinician productivity and patient outcomes
---
Values
Commitment to Excellence
Relentless Innovation
Customer Success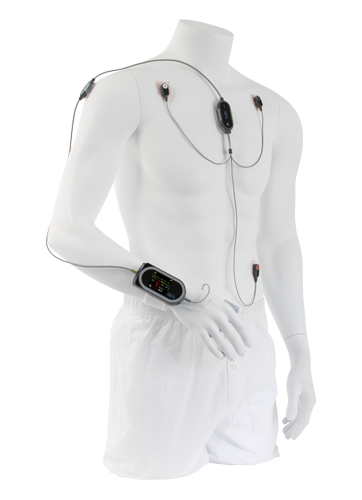 Dr. Devin McCombie has over 10 years of product development experience in wearable medical monitoring. A Biotech Executive with management experience, he has designed customer-focused solutions in hardware, software, and monitoring algorithms that have resulted in 8 FDA-approved products. Dr. McCombie has assisted and collaborated on a number of breakthrough projects that have resulted in him being named the principal patent holder for over 25 medical technology designs.
Prior to his current role as CEO at Sotera, he also served as Chief Science Officer here, where he led all aspects of research and development in data science, machine learning, signal processing, and physiologic sensing for the company's body-worn medical monitor and cloud-hosted data analytics platform. Additionally, in his earlier role as Vice President of Research and Development at Sotera, he led the product development team, including hardware engineering, embedded software, systems software, data science, and software testing.
Devin earned a bachelor's degree in engineering from the University of California, San Diego, and two master's degrees and a Ph.D. in engineering from the Massachusetts Institute of Technology.
Dr. McCombie is also a veteran of the United States Air Force. He served on active duty in Civil Engineering Squadrons both domestically and overseas and received the Commendation Medal for meritorious service.
Derek Sanz is a 20-year sales leadership veteran in Healthcare and Technology industries. He holds a Bachelor of Science in Human Resource Management from Arizona State University and has spent most of his career in leadership roles building businesses.
Before joining the team at Sotera, Derek worked with early-stage technology companies building go-to-market strategies, globally distributed sales teams, and creating powerful and high-performing cultures. Derek also spent over 15 years in Medical technology companies, where he has experience in both large mega-cap companies as well as smaller start-ups.
Daniel Walker has been a leader on Sotera's team for the past decade and has been integral in the development of Sotera's flagship technology, ViSi Mobile. With experience in both firmware and software, Daniel leads the engineering group at Sotera with passion and drive.
Daniel is a graduate from California Polytechnic State University where he earned a BS in Computer Engineering.