ViSi Mobile System General Information
What is the ViSi Mobile System?
The ViSi Mobile System is a platform that is designed to detect deterioration earlier and keep clinicians connected to their patients. Featuring wearable sensors that allow for freedom of movement, the system enables highly accurate, continuous monitoring of core vital signs.
What is the Indication for Use?
The ViSi Mobile Monitoring System is intended for use by clinicians and medically qualified personnel for single or multi-parameter vital signs monitoring of adult patients. The ViSi Mobile System has received CE mark and is FDA cleared for continuous monitoring of ECG, Heart/Pulse Rate, SpO2, Blood Pressure (cuff-based and cuffless on beat-to-beat basis), Respiration Rate and Skin Temperature in hospital-based facilities; including general medical-surgical floors, intermediate care floors, and emergency departments. The ViSi Mobile Monitoring System may be used as standalone devices or networked to a ViSi Mobile Remote Viewer through wireless 802.11 communication.
What is the intended patient population?
What is the spectrum of vitals captured by ViSi Mobile System?
Vital Signs captured by ViSi Mobile System, include the following:
SpO2 / Pulse Rate
ECG / Heart Rate
Respiration Rate
Skin Temperature
Non-invasive Blood Pressure (NIBP)
Continuous Non-Invasive Blood Pressure (cNIBP)
What disposables are required to operate the ViSi Mobile System?
There are 5 disposable components.
Wrist cradle and strap
Thumb wrap
Chest Cable securement set
3M™ Disposable ECG Electrodes
How is the ViSi Mobile System powered?
The ViSi Mobile Monitor and Cuff Module are powered by rechargeable Li-Ion batteries. Sotera Wireless offers an 8-bay or 2-bay charger to recharge devices. The Chest Sensor and Thumb Sensor do not require batteries. The Monitor's battery charge will last at least 14-16 hours. The Cuff Module will last approximately 30 inflations. ViSi Mobile also has an optional Power Pack that plugs into the monitor while on the patient to extend the monitor's battery. The Power Pack can fully charge a ViSi Mobile monitor while on a patient and is also powered by a rechargeable Li-Ion battery.
What does the setup look like on a patient?
The image below shows a full patient setup. Three sensors connect to the monitor:
Optical Thumb Sensor for measuring Pulse Rate and SpO2, which extends from the wrist-worn monitor to the thumb to maximize patient mobility by keeping all fingertips free.
Chest Sensor for measuring ECG/Heart Rate (3- or 5-lead version), Respiration, and Skin Temperature which extends from the wrist-worn monitor up the arm to the chest. The chest sensor allows measuring "ICU quality" ECG including Pacer detection. The sensor cable is significantly thinner than conventional ECG cables and is "one-size-fits-all".
Cuff Module for single-inflation, automatic NIBP monitoring and also serves to calibrate our cNIBP (continuous non-invasive BP monitoring). The cuff module directly connects to a disposable cuff and plugs into the wrist-worn monitor for data connection.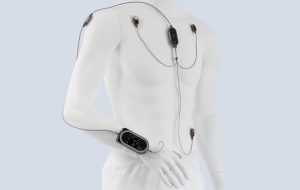 How does the ViSi Mobile System cNIBP work?
ViSi Mobile's technology non-invasively measures continuous blood pressure (cNIBP) on a beat-to-beat basis without the need for frequent cuff inflations. An initial "calibration measurement" is taken by a blood pressure cuff inflation on the same arm as the wrist monitor, after which the cuff can be removed and the patient's beat-to-beat blood pressure can be accurately measured. The ViSi Mobile System can detect the onset of the R wave via the chest sensor and measure the time it takes for the resulting pulse to be detected by the thumb sensor. This technique is called "pulse arrival time". The technology then translates pulse wave velocity into a recognizable blood pressure measured in mmHg (or kPa).
What is the accuracy of the ViSi Mobile System cNIBP?
The ViSi Mobile System cNIBP technique has been compared in clinical trials to invasive arterial lines and has shown accuracy in these studies within 5 mmHg. As a pulse wave travels down the arterial system, the systolic pressure increases. This is noticeable when comparing systolic blood pressure measured via an invasive arterial line versus auscultation. Sotera Wireless considered how this would impact the adoption of the technology in low acuity care units. As a result, default cuff calibration for ViSi Mobile cNIBP is set to calibrate against the auscultatory method. cNIBP measurements will compare favorably to other non-invasive blood pressure techniques and captures blood pressure on a beat to beat basis.
Does the patient need to wear a cuff during cNIBP?
The cuff is utilized to establish the initial patient specific calibration. Following a successful calibration, the cuff can be removed and the ViSi Mobile System will display beat-to-beat blood pressure continuously without the need for cuff inflations. If the system detects large changes in mean arterial pressure, a calibration alert will notify the clinician that a recalibration is recommended. If a vasopressor is administered, it is also recommended that the clinician recalibrates. In both of these situations, a cuff will be needed.
How often does cNIBP require calibration?
Calibration workflow alerts are triggered on the device for various reasons. Below are the most common:
Significant change in Mean Arterial Pressure from baseline
Disconnect of sensors after an extended period of time
Device swap more than 24 hours after an initial calibration
Do I lose cNIBP for patients that I calibrated more than 24 hours ago?
A "Calibrate cNIBP" alert will display on the monitor & RVD if the last known cNIBP calibration was more than 24 hours ago. cNIBP will continue to display with the alert until the next device swap. If a clinician sees the alert at the time of device swap, cNIBP must be recalibrated. If the alert is not present at time of device swap, the calibration will transfer to the next monitor
Can the patient access the monitoring functions?
It is possible to enable an optional clinical authentication code to prevent patient tampering and avoid access of PHI.
Can the patient shower with the ViSi Mobile System?
All components with the exception of the Cuff Module are water proof and can be submerged in water. Because the water on the patient's skin will cause noise in the vital sign measurements and potentially false alarms, it is not recommended that the patient shower while wearing the ViSi Mobile System. Follow the Pause Monitoring workflow outlined in the User Manual if the patient will need to shower or bathe.
Will the monitor identify pacemaker spikes?
Yes, the Monitor's ECG channel is capable of monitoring patients with an Implanted Pacemaker (PM), Implantable Cardioverter-Defibrillator (ICD), or Cardiac Resynchronization Therapy (CRT) device. A vertical dashed line before the P wave (atrial pace), and before the QRS (ventricular pace) indicate paced events. In the case of biventricular pacing (CRT), two vertical dashed lines occur before the QRS.
Can the Monitor be used during defibrillation?
Yes, the system can be used during defibrillation without damaging or affecting the system. A Heart Rate reading will be displayed within 20 seconds after a defibrillation event. An ECG waveform will be displayed within 5 seconds after a defibrillation event.
Does the ViSi Mobile System have bedside alarm capabilities?
The patient-worn ViSi Mobile monitor itself is the primary alarming device. When networked, the alarms are propagated to the ViSi Mobile Remote Viewer as opposed to on the monitor.
What is the cleaning and disinfecting procedure for the ViSi Mobile System?
To clean the ViSi Mobile Monitoring System components:
Hand wash the System components using mild soap or detergent (e.g. Alconox) and water. Use moistened cloths to remove residual cleaner.
Dry the System components.
Visually examine each System component to ensure all soil contaminants have been removed.
To disinfect the ViSi Mobile System Components
Disinfect the reusable components by following the recommended application of the disinfectant or use a basic wipe moistened with 70% isopropyl alcohol.
Dry thoroughly.
Does the Monitor have clinical and technical alarm capabilities?
Yes. The ViSi Mobile System has been designed to reduce the number of non-actionable alarms per patient. Clinical alarms will annunciate based on configured parameter thresholds and delays set by the clinical staff. The majority of technical alarms (alerts) will only visually annunciate.
Are Sotera and Sotera Wireless the same company?
Yes. In June of 2022, Sotera Wireless, Inc. filed for a fictitious business name to be able to use Sotera, Inc. (without Wireless) to conduct business. Both Sotera and Sotera Wireless are legally acceptable names for our organization.
ViSi Mobile System Architecture / Infrastructure and Network Connectivity
Do you have a network topology diagram?
How does the ViSi Mobile Monitor integrate with a hospital network?
The ViSi Mobile Monitors integrate with a hospital's existing 802.11 networks. The standard system consists of 3 main components:
ViSi Mobile Monitor – Worn by the patient and communicates with the ViSi Mobile Appliance over the wireless network using an 802.11 radio.
ViSi Mobile System Software – Installed on a physical or virtual server; the System software compiles and distributes patient information to the ViSi Mobile Remote Viewer(s).
ViSi Mobile Remote Viewer – Central station that allows the user to view patient vital signs and other continuous data
What co-existence Issues with other products might arise given a hospital's wireless network may provide connectivity to multiple devices of differing manufactures?
The ViSi Mobile Monitor can coexist with various medical and enterprise devices based on our lab and live testing. Our co-existence testing involved over 20 different yet common medical devices from differing manufactures.
ViSi Mobile Device and Remote Viewing Display
Is the application HIPAA compliant?
Yes. The application isolates PHI from patient vital sign information for HIPAA compliance.
Can the ViSi Mobile Appliance be deployed virtually?
Yes, it can be deployed on a virtual machine. An onsite assessment and validation will be required.
Does the ViSi Mobile Appliance require remote secure VPN access?
Yes, remote access via SecureLink is required for the ViSi Mobile Appliance (Server) for troubleshooting and software updates.
How will Sotera Wireless manage Windows updates?
Wireless Customer Support will coordinate with the site's technical resources to implement software updates of the RVD workstation software configuration or updates to the Windows Operating System (OS). However, the customer is responsible for validating in a non-production environment. This technical assistance is included with a Sotera System Support Agreement.
Are there known conflicts with Anti-Virus products and /or scans?
Although there are no known conflicts, the customer should validate the system functionality in combination with the preferred Anti-Virus product.
ViSi Mobile System Interoperability
How long will interoperability projects take from start to go live?
Sotera Wireless offers numerous integration options to align with your interoperability strategy. Our discovery process will be the start of the information exchange that will help to identify the appropriate solution for your IT environment and clinical workflows. As an output of the discovery process, a Statement of Work will be developed.
What equipment is needed for non-production testing for integrations?
The ViSi Mobile monitor and sensors are required along with disposables. A charger is recommended to ensure the device is charged. A virtual server and RVD are setup by Sotera.
What is the interoperability process?
Although each integration project will be different, the phases below identify the high-level interoperability milestones within the Sotera Wireless Implementation process. The Sotera Interoperability Engineer will assist with implementing your organization's integration options.

Phase 1: Define Requirements and Develop Infrastructure
Install virtual non-production environment
Establish SecureLink communication
Perform required Sotera software upgrades
Record Sotera clinical configuration and apply to system
Phase 2: ADT (Patient Demographics)
Establish ADT connectivity
Implement and test ADT
Phase 3: EMR (Vital Signs Capture)
Implement and test outbound EMR HL7 feed (vital signs). For certain EMR systems, additional integration options are available.
Phase 4: Distributed Alarming
Sotera will work with your middleware vendor to implement and test Distributed Alarm functionality.
Phase 5: Production Activation
Sotera will work with your application team to confirm the change window for production migration.
During the prescribed change window, your Sotera Interoperability Engineer will migrate the configuration to production.
Sotera will then provide support for any user acceptance testing (UAT) that your organization wants to perform.
Sotera will request Customer Interoperability Acceptance signoff once testing has been completed.
ADT Configurations
Can the ViSi Mobile System interface with an ADT server?
Yes, the ViSi System can interface with ADT. The inbound ADT data is utilized by the Sotera application to provide patient identity information for display on the ViSi Mobile Monitors.
EMR and Distributive Alarming Integrations
With which EMRs can ViSi Mobile System integrate?
The ViSi Mobile System can integrate with most EMR systems through HL7 or via a middleware like Capsule. Active integrations include Epic, Cerner, Meditech and HMS/Medhost.
With which Distributive Alarming Systems can the ViSi Mobile System integrate?
The ViSi Mobile System can integrate with most distributive alarming middleware. Active integrations include Extension, Cerner and Connexall.
Do the interfaces support transfer of waveforms?
The ViSi Mobile System is capable of sending raw waveform data to a receiving system.
What iBus version is require for Cerner integration?
For PowerChartTM, Cerner requires iBus 5.1 or higher. For ConnectTM and AlertLinkTM, Cerner requires iBus 5.2.6 or higher. ViSi Mobile System is compatible with these versions of the iBus.
How is the association made between the ViSi Mobile Monitor and the Cerner iBus?
Sotera Wireless has an interface through iBus utilizing Cerner's advanced bidirectional Patient to Device Association (P2DA). The advanced P2DA workflow reduces numerous inefficiencies with device connectivity in that the monitor only needs to be associated a single time and not each time a battery swap is complete or after the session is paused and restarted.