The ViSi Mobile System is designed to provide continuous surveillance monitoring for patients in general care settings.
ViSi Mobile improves patient safety by utilizing machine learning from millions of hours of patient data to recognize patient deterioration while minimizing alarm burden and maximizing clinical workflow.
The ViSi Mobile System Monitors:

ViSi Mobile Helps During Pandemic
Constant surveillance monitoring that ViSi Mobile provides, improves clinician workflow and reduces the number of unmonitored COVID-19 patients inside and outside of emergency departments. The more we learn about COVID-19, the more we understand the risk factors and the critical signs that can easily be missed without constant monitoring.
ViSi Mobile also reduces the number of interactions needed by clinicians which can greatly reduce the potential exposure to COVID-19 positive patients. This system is being implemented throughout the U.S. at hospitals and within external COVID-19 care units.
Watch a webinar about how ViSi Mobile was incredibly impactful at the Georgia World Congress Center's COVID-19 Alternative Care Facility.
Combat staffing shortages, reduce unnecessary exposure and maximize clinical workflow while improving patient safety and outcomes. ViSi Mobile saves lives.
Limitations of Basic Vital Sign Monitoring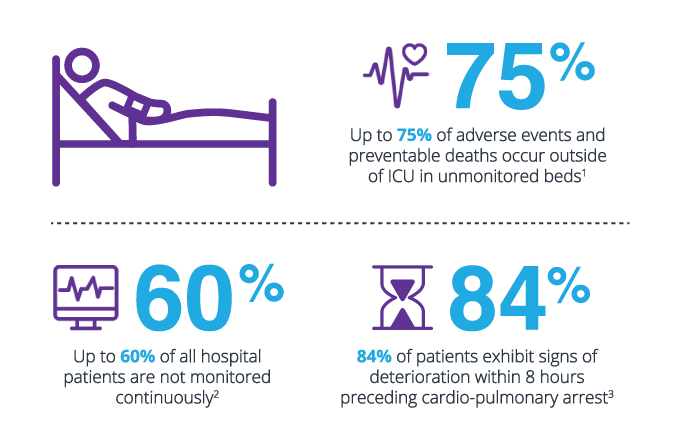 Vital sign collection has generally been ordered according to unit policy and not according to patient need. Dangerous patient deterioration can occur in the interim between physical vital sign spot checks.
1 AHA database, 2013 2 I2_Presentation_Diagnostics_Haraden.pdf
2 I2_Presentation_Diagnostics_Haraden.pdf
3 Schein RM et al. Clinical antecedents to in-hospital cardiopulmonary arrest. Chest 1990;98: 1388-92.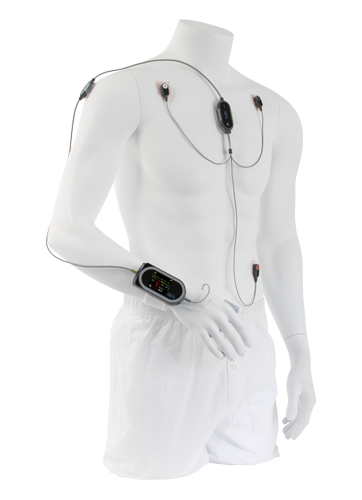 The Benefits of ViSi Mobile Patient Monitoring System
Sotera's ViSi Mobile® Patient Monitoring System is a platform for comprehensive vital signs monitoring that keeps clinicians connected to their patients, whether in bed, in transport or while ambulating. Featuring comfortable body-worn sensors that allow for freedom of movement, the system enables accurate, continuous monitoring of all core vital signs with beat-to-beat, noninvasive blood pressure, as well as patient activity and posture. ViSi Mobile is a system designed to enhance patient safety, allowing early detection of patient deterioration and connecting clinicians with their patients anywhere, any time.